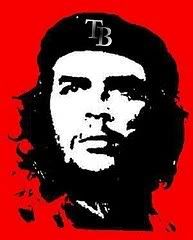 The Rays Revolution is upon us. Many of you may have noticed an increase in our Rays coverage as the MLB season draws closer. We never intended The Stat Pack to become a Rays blog or a blog dedicated to any one team or sport. However, as hardcore Rays fans we feel the need for a place to express ourselves about the team. That leads us to the first Stat Pack spin off blog: Outs Per Swing.

Why the name Outs Per Swing you ask? While my colleague Jules and I were attending a Rays game last year we had the privlege of sitting in front of some very... ummm southern cultured...ummm good ol...well basically they were just rednecks, who obviously didn't follow much baseball. During one Carlos Pena at bat the two gentlemen decided to discuss Pena's stats. Here is a recap of the conversation:

Guy1: What does OPS Mean?

Guy2: Huh?

Guy1: It says he has a .988 OPS.

Guy2: Oh, I dont know...maybe Outs Per Swing.

Guy1: Probably, That's a pretty good Outs Per Swing.

And there you have it, two sabermetrics fans were born. By the ninth inning and ninth beer a piece, Aki Iwamura came up to lead off the inning and our two new Stat gurus greeted him by screaming "COME ON ICHIRO".

So that is the story behind the name. The coverage will be similar to the Rays coverage we've had on TSP, but with more updates and more in depth looks into Rays games, moves and any news regarding the team. We will also continue to have interivews with various players and writers on both OPS and TSP.

TSP will continue to provide you with a wide range of coverage tackling all sports, including major news from the other 29 MLB teams not named "RAYS". Also be on the look out for an increase in NBA coverage.

We thank you all for your readership and look forward to many big things for both The Stat Pack and Outs Per Swing. We will leave you with this for you viewing pleasure. The old logo never looked so good.

GO RAYS!