They say a picture is worth a thousand words. Well I have a few about this one.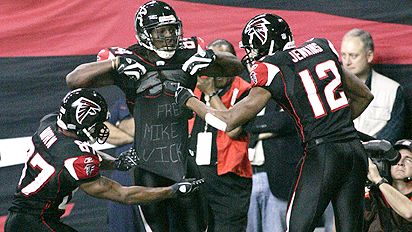 Free Mike Vick. Are you serious? "Rowdy" Roddy White must have fallen and bumped his head before this celebration last night. For those who didn't see, Roddy White unveiled a homemade "Free Mike Vick" shirt during a celebration in last night's loss to the Saints.

Free Mike Vick? There is nothing to "Free" Mike Vick from. When you are indicted on a federal crime and you agree to plead guilty as part of a deal you are admitting that you committed a crime. Whether you agree with the sentencing or not Michael Vick committed a crime and he was sentenced by a judge within the sentencing guidelines. Vick is actually lucky that Judge Henry Hudson didn't give him the maximum 5 year sentence. I am not a dog lover. In fact I don't like dogs at all. However, I do agree if you knowingly commit a crime then lie about your involvement and violate your probation, you should face the penalty. I know Vick has friends, family, teammates and even some fans who still support him, but you can't believe for one minute that Mike Vick is being held unlawfully or unjustly. I'm all for giving Vick a second chance once he completes his sentence, but portraying Vick as a victim and supporting a "Free Mike Vick" campaign is ridiculous.